AZ Sports Cards
2019 World Series Begins 10.22.19
------------------------------------  
*******
Store Updates
*******
Enter our Raffle Reward Program
For every $10.00 spent in Store Customers will receive  
One raffle ticket for our raffle.
Tuesday Special:
"Double Raffle Tickets on all purchases"
You will receive Two tickets for every $10.00 spent  
Our Next Raffle will be on Saturday November 23rd at 3:00 pm
(Must be present to win)
Sign up for our "Weekly Customer Football Pool"**
$10.00 per person with 100% of the pool going to the winner.
Sign-up deadline is Saturdays by 5:00 pm.  
(Check out our Facebook page for  
posted picks every Saturday evening)
**
Respectfully Open to customers Only!
"Congrats Week 6 Winner Jim N
!!!"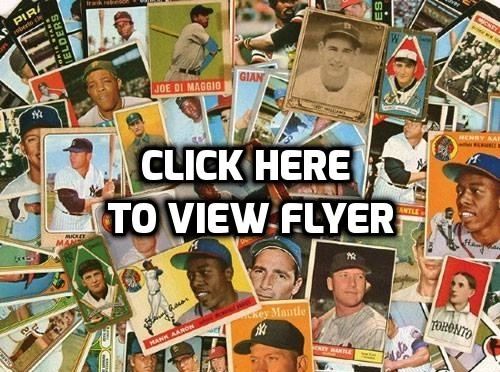 -----------------------------------
Great article about AZ Sports Cards on the Beckett Website... Local Card Shop of the Week
-----------------------------------
Have Cards or Collectibles to Sell?
WE'RE ALWAYS BUYING
Selling & Trading!
Sports Cards * Vintage & New
Graded Cards & Memorabilia
And Autographed items
Bring them in any day before 4PM.
We also take appointments on
Wednesdays & Saturdays 
Between 11:30 am & 3:30 pm 
--------------------------------
In-Store RAFFLE  Item!!
Framed Ali signed boxing trunks
JSA Certified
Only 100 Tickets being sold (Only 70 tickets remaining)
Each ticket is $20.00 / 3 for $50.00 / 7 for $115.00
"Once all tickets are sold we will announce the drawing date one week before drawing"
- - - - -

Team Sets, Official MLB Baseballs, Baseball Bats, 

Batting Helmets, Bases & Pitching Rubbers and more...
AZ Sports Cards has the best selection and prices in town 
for boxes of cards, single cards, and supplies!!
Baseball cards, Basketball cards, Football cards, Hockey cards,
Non-Sports cards like TV cards, Movie Cards, Future Releases, Supplies and more....
We are now offering "Special Flash Sales" on Facebook
Keep an eye on our Facebook Page

Check out our New Selection of Card Singles From Sports to Celebrity to Non-Sports
 We also have 1000's of Singles / 15 cards for $1.00

Sign Up for our Weekly Flyer for Store Announcements